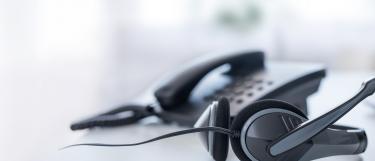 Comprehensive care and assistance
Ultimately, IT is only valuable when people can use it effectively and comfortably. To ensure that this can happen, the URZ offers comprehensive support that specifically addresses your questions and needs and is ready to help when problems arise. The first and central contact point is the IT Service. Furthermore, there are specialized consultation and support services for employees and researchers.
Links
IT Service
The IT Service offers competent support and advice for all URZ services. It is the first contact point for all IT-related questions and problems. Our service associates can be reached via telephone, video call, contact form, email and in person at two IT Service Points.
Links
IT Security
The University Computing Centre is the central contact point for IT security issues and is responsible for handling all IT security incidents at the University. Our services are under constant monitoring for attempted attacks and misuse. In the event of system irregularities, the responsible administrator(s) will be immediately informed so that the matter can be investigated and any problems can be rectified.
Links
On-Site Service
If your facility or institute uses the on-site service, specialists from the Computing Centre will provide you direct support at your desk. The service can be arranged as a practical and permanent solution for on-site IT support. It is also possible to arrange individual job orders.
Links
HPC Support
The Computing Centre's high performance computing (HPC) support will assist you with using supercomputing resources available at the University and in the state of Baden-Württemberg. Subject-specific consulting is offered particularly for molecular life sciences as well as for economic and social sciences within the framework of the bwHPC-S5 project.