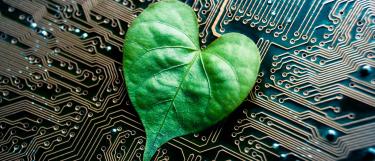 Explore, develop, improve.
The IT requirements for research, teaching and administration are in a constant state of change. Research-related IT services in particular must adapt to the multifaceted needs of the scientific community. As an academic computing center, the URZ anticipates these trends and develops innovative and sustainable IT solutions in cooperation with the relevant target groups. Moreover, experts at the URZ continuously work to optimize existing services and infrastructure, such as in regard to energy efficiency and environmental impact.

Research-related projects
As an academic computing center, the URZ is constantly experimenting with and developing new technologies and services for research and teaching. This innovation work is implemented within a framework of various projects, which are conducted in cooperation with other facilities and research partners.

Courses and events
Get to know the URZ IT services through various event formats and exchange ideas with other users. Our services are continually being expanded and adapted to your needs.

New high performance computer bwForCluster Helix
A new scientific high performance system: Currently, preparations are being made to procure bwForCluster Helix and set it up at the University Computing Centre (URZ). The system is expected to be available for all Heidelberg University researchers as well as researchers from all high education institutions of the State of Baden-Württemberg from the third quarter 2021.