Research and Teaching
Publications
The results of the University Computing Centre's research projects, collaborations and events are published on a regular basis - primarily in the form of conference transcripts and scientific papers. Conference contributions are also published here. Whenever possible, this content is made available as open access publications and under free license.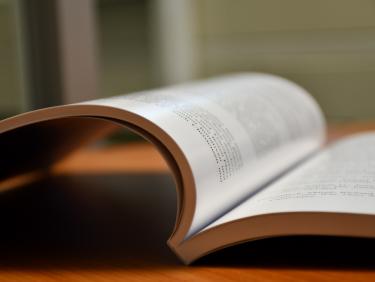 Books and conference transcripts
E-Science-Tage 2021: Share Your Research Data
Vincent Heuveline, Nina Bisheh (Eds.)
By sharing research data, scientists can benefit on all fronts: existing data sets can be reused and scientific progress can become more efficient. Data exchange creates more transparency, makes collaborations efficient and can be viewed as a quality assurance measure.
Throughout the E-Science-Tage 2021, the importance, risks and benefits of sharing research data was addressed. This conference proceeding book is a collection of presentations and posters on "Share Your Research Data".

E-Science-Tage 2019: Data to Knowledge
Vincent Heuveline, Fabian Gebhart, Nina Mohammadianbisheh (eds.)
Digitization provides a new, efficient means of supporting scientific progress. In nearly all fields, modern information systems enable research data to be digitally archived and reused more easily as it is needed. In this day and age, where collective knowledge has reached unprecedented volumes, the systematization of research data is becoming more important than ever.  The E-Science Tage 2019, from which this conference transcript emerged, presented new ways of processing research data and further advanced digital science through the lively exchange of experience and innovations.

E-Science-Tage 2017: Forschungsdaten managen ("Managing Research Data")
Jonas Kratzke, Vincent Heuveline (eds.)
Methodology, networking and the advancement of scientific knowledge are all mutuallz spurred on by the possibilities of digital research. Modern information systems in particular promote the development of innovative research methods, support virtual collaborations and increase the value of data in the research process.  This conference transcript from the E-Science-Days 2017 provides insight to the current developments in the management of research data.  It presents forward-looking and subject-specific approaches alongside innovative institutional solutions for handling, publishing and archiving research data.

Proceedings of the 3rd bwHPC-Symposium (Heidelberg 2016)
Sabine Richling, Martin Baumann, Vincent Heuveline (eds.)
The bwHPC Syposium is an annual event that takes place as part of the high-performance computing implementation system of Baden-Württemberg (bwHPC). It focuses on  the presentation of the progress and results of scientific computing projects.  Moreover, the event also provides an opportunity for active dialog between users, bwHPC service providers and the bwHPC support teams. This conference transcript includes contributions from lectures and posters of the 3rd bwHCP Symposium, which took place in Heidelberg on the 12th of October 2016.

Table
| Authors | Title | Year | Journal/Proceedings |
| --- | --- | --- | --- |
Authors

Title

Year

Journal/Proceedings

Apel, J., Gebhart, F., Maylein, L., and Wlotzka, M.

Offene Forschungsdaten an der Universität Heidelberg: von generischen institutionellen Repositorien zu fach- und projektspezifischen Diensten ("Open Research Data at Heidelberg University: From generic institutional repositories to subject and project-specific services")

2018

O-Bib. Das Offene Bibliotheksjournal ("The Open Library Journal")/ issued by the VDB, 5(2), 61-71.

Baumann, M., Gebhart, F., Mattes, O., Nikas, S. and Heuveline, V.

Development and implementation of a temperature monitoring system for HPC systems

2018

Report - German Informatics Society, Parallel-Algorithmen, -Rechnerstrukturen und -Systemsoftware (PARS) ("Parallel algorithms, computing structures and system software") Vol. 34

Baumann, M., Heuveline, V., Mattes, O., Richling, S. and Siebler, S.

SDS @ hd - Scientific Data Storage

2018

Proceedings of the bwHPC Symposium 2017, pp. 32-36

Richling, S., Baumann, M., Friedel, S. and Kredel, H.

bwForCluster MLS&WISO

2017

Proceedings of the 3rd bwHPC-Symposium: Heidelberg 2016, pp. 103-107 

Baumann, M., Gebhart, F., Mattes, O., Nikas, S. and Heuveline, V.

Development and implementation of a temperature monitoring system for HPC systems

2017

Preprint Series of the Engineering Mathematics and Computing Lab
Vol. 0(07);

Baumann, M., Effinger, M., Eller, D., Heuveline, V., Kempf, C., Loos, L., Maylein, L., Peltzer, J., Pfeiffer, M., Probst, V., Schultes, K., Thomas, B., Volkmann, A. and Zipf, A.

heiMAP: Virtueller Kartentisch ("A Virtual Map Table")

2017

Conference lecture

Schridde, D., Baumann, M. and Heuveline, V.

Skalierbare und flexible Arbeitsumgebungen für Data-Driven Sciences ("Scalable and flexible work environments for data-driven sciences")

2017

E-Science-Tage 2017: Forschungsdaten managen ("Managing Research Data"), pp. 153 -166

Baumann, M., Nikas, S. and Gebhart, F.

Towards a temperature monitoring system for HPC systems

2017

Proceedings of the 3rd bwHPC-Symposium: Heidelberg 2016, pp. 76-78

Hochstrasser, T.

Konzeption und Entwicklung eines verteilten Systems zum Sensor Monitoring ("Conception and development of a distributed system for sensor monitoring")

2016

Master thesis, Ruprecht Karl University of Heidelberg, Institute for Computer Science

Baumann, M., Förstner, J., Heuveline, V., Kratzke, J., Ritterbusch, S., Vogel, B. and Vogel, H.

Model-Based Visualization of Instationary Geo-Data with Application to Volcano Ash Data

2015

Handbook of Geomathematics, pp. 1417-1441