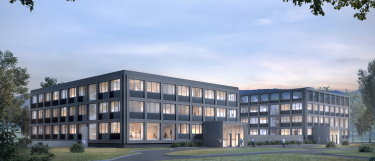 The University Computing Centre building located in Im Neuenheimer Feld 293 is currently undergoing a complete renovation and will reopen in 2023 as a modern, climate-friendly IT center.
The renovations, which should be completed in the latter half of 2023, will create:
a quiet, open study/workspace with new IT workstations for students on the Im Neuenheimer Feld campus
a barrier-free IT center with damage and fire protection, eco-friendly insulation and environmental certification
modernized office space for more than 120 URZ staff members.
Further renovation in the neighboring building: establishment of heiCOMACS
At the same time, the URZ's twin building (INF 294) will also be completely renovated and  converted into heiCOMACS, the Heidelberg Collaboratory for Mathematical and Computational Sciences.
With the establishment of heiCOMACS comes the creation of an interdisciplinary research center for hardware-aware computing focusing on the intersection between new hardware technology, mathematical method development, energy-efficient computing and high performance computing. In this new research building, the University Computing Centre will also conduct various research activities in collaboration with the other partners, especially through the Future IT - Research & Education (FIRE) service area.
All services and service points accessible as usual
During the renovation, the University Computing Centre will be situated in Im Neuenheimer Feld 330 (the former South Asia Institute, within walking distance of the original URZ building). Here you will find the usual service points like the IT Service, the 3D printing and poster service and the Ricoh Printcenter.
We will keep you informed of construction progress here on this page. We are already looking forward to being able to welcome you to the new building!
Images from the construction site